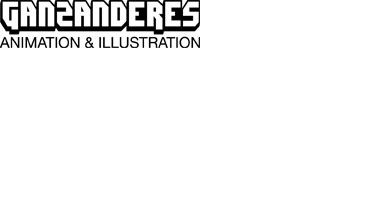 DEATH BY HEART (student film, 2005)
ABOUT
Short animated film. By Malin Erixon. Student film at Konstfack University College of Arts Crafs and Design. Release date: 2005. The film won several awards and was screened at film festivals all over the world as well as at the Modern Museum of Art in Stockholm and at Galleri Vitrin.
SYNOPSIS
A man can't quite find the right moment to tell his friend
something very important, before it's too late… There seems
to always be something that interrupts him…

CAST & CREW
Direction, script, design, animation, editing, sound etc: Malin Erixon
Music: Christofer Ahde
Voice over: Raj Kottamasu
Technique: Classical animation, 25 pictures per second.
NOMINATED FOR BEST ANIMATED SHORT AT THE ANIMPACT MAX ANIMATION COMPETITION 2007, the most famous and popular event for animated shorts in Korea
NOMINATED FOR BEST SHORT FILM AT THE NEW YORK INTERNATIONAL CHILDREN´S FILM FESTIVAL 2007, the largest festival for children and teens in North America
AWARDED THE SPECIAL JURY PRIZE AT OTTAWA INTERNATIONAL ANIMATION FESTIVAL 2005, one of the world's largest filmfestivals for animated film
AWARDED BEST NON-PROFESSIONAL FILM AT BRADFORD ANIMATION FESTIVAL 2005, the UK's biggest animation festival
AWARDED THE PRIZE MADE IN STOCKHOLM AT STOCKHOLM INTERNATIONAL FILM FESTIVAL 2005, the leading competitive film festival in northern Europe
NOMINATED FOR THE NORDIC SHORT FILM AWARD AT NORDISK PANORAMA 2006, the largest short & documentary film festival of the Nordic countries
NOMINATED FOR BEST SWEDISH SHORT FILM AT UPPSALA INTERNATIONAL SHORT FILM FESTIVAL 2005, the largest festival for short films in Sweden
NOMINATED FOR BEST STUDENT FILM AT ZAGREB ANIMATION FESTIVAL – ANIMAFEST 2006, one of the world's largest filmfestivals for animated film
AWARDED A SILVERDIPLOMA AT "KOLLA!2005", Svenska Tecknare's (the association of Swedish illustrators and graphic designers) competition in graphic design and illustration. Read more on KOLLA!
AWARDED BEST SHORT FILM AT SHORTbl – independent short film festival, Saint Petersburg, Russia. March 2006
NOMINATED FOR BEST FILM AT THE INTERNATIONAL FESTIVAL OF ANIMATION ARTS "MULTIVISION" 2006, Saint Petersburg, Russia
NOMINATED FOR BEST SHORT FILM – PEOPLE'S CHOICE AWARD AT JÖNKÖPING'S FILMFESTIVAL 2005
AWARDED THE JURY'S SPECIAL PRIZE AT EKSJÖ ANIMATION FESTIVAL 2005, the only festival for solely animated film in Sweden
AWARDED BEST FILM AT PIXEL – SKÅNE'S VIDEOFILM FESTIVAL 2005, the largest shortfilm festival in Skåne